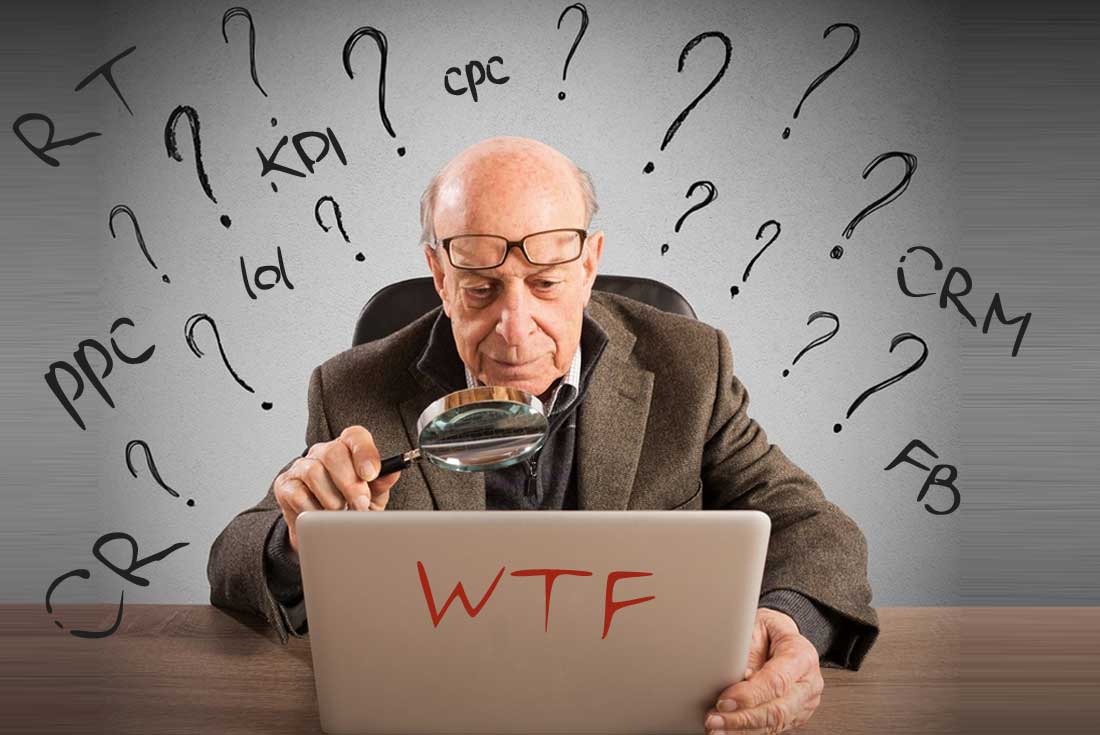 Internet Marketing (DIGITAL) skraćenice
Posted on
November 30, 2016
Brz napredak, brz život, brzi ljudi…
Sve se ubrzalo i čini mi se da se sve više ubrzava. Svi svuda jure, ali i opravdano je ako vidimo koliko se brzo tehnologija i trendovi menjaju. Ako želiš da budeš "u toku" moraš biti brz!
Kao posledica sve te brzine sve je više akronima i skraćenica koji nam ubrzavaju komunikaciju a negde je i plan bio da se i olakša komunikacija… što je negde pilo vodu dok se u rečenicama koristilo manje skraćenica nego reči 😉 Danas je sasvim normalno da čujem:
"Hej sKa, pošalji mi CPC, CTR i CR za B2C FB kampanju, koliki su ROI i AOV i proveri da li su KPI-evi OK. "
Mislim da govorim u ime svih, kada kažem da se svakome bar jednom desilo da se zagleda u poruku i pomisli: WTF! (da nastavim u duhu teme!)
U nastavku ćete moći da vidite značenja nekih akronima, uglavnom iz sfere marketinga, digitala, prodaje (ali se pominju u sferi marketinga) kao i neke od tehničlih akronima koji su opet bitni za DIGITAL.
Plan je da se ova stranica ažurira sa novim skraćenicama, i u to ime slobodno objašnjenja i primere u komentar, biće mi drago da zajedno ažuriramo listu!
AIDA |Attention, Interest, Desire, Action
ARR |Annual Recurring Revenue
B2B |Business to Business
B2C |Business to Consumer
BANT |Budget, Authority, Need, Timeline
BDR |Business Development Representative
CAN-SPAM |Controlling the Assault of Non-Solicited Pornography and Marketing Act of 2003
CPA |Cost Per Acquisition
DM |Direct Message (or Mail)
CPO |Cost Per Opportunity
CPM |Cost Per Mile (Thousand)
IAB |Interactive Advertising Bureau
FAQ |Frequently Asked Questions
KPI |Key Performance Indicator
MQL |Marketing Qualified Leads
MRR |Monthly Recurring Revenue
PR |Page Ranking, Public Relations ili Press Release
RFP |Request for Proposal
ROI |Return of Investment
SEM |Search Engine Marketing
SEO |Search Engine Optimization
SERP |Search Engine Results Page
SMB |Small-Medium Business
SME |Small-Medium Enterprise
SMM |Social Media Marketing
SMO |Social Media Optimization
SMP |Social Media Platform
SQL |Sales Qualified Lead
SWOT |Strenghs, Weaknesses, Opportunities, Threats
TCO |Total Cost of Ownership
UGC |User-Generated Content
UVP |Unique Value Proposition
VALS |Values, Attitudes and Lifestyles
VAR |Value Added Reseller
WOMM |Word of Mouth Marketing
WYSIWYG |What You See Is What You Get
ZMOT |Zero Moment of Truth
DBEYR |Don`t Believe Everything You Read
DILLIGAS |Do I Look Like I Give a Shit
FWIW |For What It`s Worth
IMHO |I My Humble Opinion
LMAO |Laughing My Ass Off
RBTL |Read Between The Lines
AJAX |Asynchronous Javascript and XML
API |Application Programming Interface
ASP |Application Service Provider
CMS |Content Management System
CGI |Common Gateway Interface
ESP |Email Service Provider
FTP |File Transfer Protocol
HTML |HyperText Markup Language
HTTP |HyperText Transfer Protocol
HTTPS |HyperText Transfer Protocol Secure
IMAP |Internet Message Access Protocol
ISP |Internet Service Provider
PHP |PHP Hypertext Preprocessor
RSS |Really Simple Syndication
SaaS |Software as a Service
SLA |Service Level Agreement
SQL |Structured Query Language
URL |Uniform Resource Locator
XML |Extensible Markup Language
Ukoliko ti je ovaj članak bio zanimljiv i misliš da potencijalno imamo teme o kojima bismo mogli poslovno diskutovati ne ustručavaj se da klikneš na DUGME pored!